David Hockney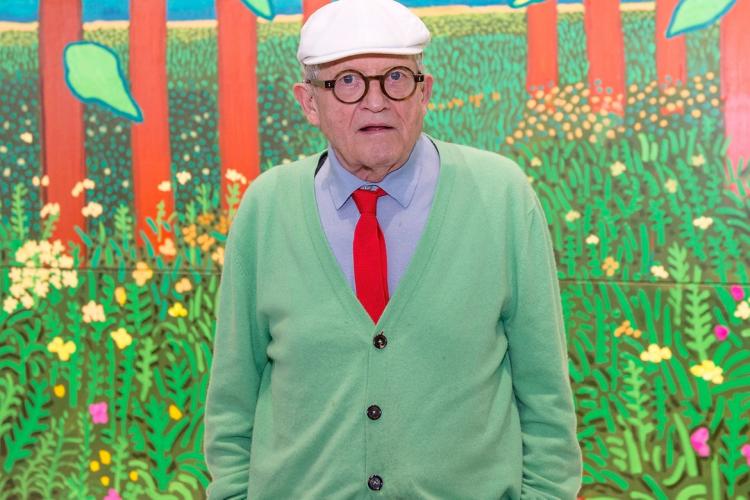 David Hockney est né en 1937 à Bradford dans une famille modeste du Yorkshire (Royaume-Uni). Il étudie à l'école d'art de Bradford, puis au Royal College of Art de Londres d'où il sort diplômé en 1962.
Remarqué très tôt à Londres, où son personnage et ses prises de position détonent sur la scène artistique, il part dès 1963 à New York ; mais c'est la Californie qui l'attire et le fascine. Il s'y rend en janvier 1964. Symbole de son rêve américain, cet Etat deviendra une source d'inspiration majeure : il y découvre une autre vie, les belles villas et leurs piscines, ainsi que la communauté gay naissante, dont il se revendique ouvertement. En 1973, Jack Hazan lui consacre un documentaire-fiction : A Bigger Splash, qui assoit sa notoriété internationale. Le titre fait écho à la peinture réalisée en 1967 et appartenant à la "série" des piscines. En 1978, il achète une maison dans les collines, au-dessus de Mulholland Drive. « Dès que j'ai habité là-haut, j'ai vu Los Angeles différemment, se souvient-il dans son livre Ma façon de voir. Je m'éloignais des lignes droites. Toutes les routes sont sinueuses là-haut ».
David Hockney puise son inspiration dans son intimité, sa famille, ses amis, les paysages qui l'entourent, les artistes qu'il admire. Il refuse l'art abstrait et l'art conceptuel et ne souhaite être classé dans aucune « école ». David Hockney, grâce à de nouveaux outils, explore d'autres voies artistiques : la photographie, puis le collage photographique (les joiners) qui lui permet de jouer sur la perspective et de créer une vision polyfocale reprenant certaines idées du cubisme. L'artiste s'intéresse régulièrement aux nouvelles technologies : le fax, la photocopie, l'iPhone, l'iPad, l'ordinateur, la video.
David Hockney a exposé dans de nombreux musées. En 2017, pour ses 80 ans, une rétrospective itinérante a débuté à la Tate Britain, à Londres, puis est allée, dans des versions modifiées, au Centre Georges Pompidou à Paris et au Metropolitan Museum of Art à New York. Ses œuvres sont présentes à travers le monde : Art Gallery of New South Wales (Sydney, Australie), Louisiana Museum of Art (Humlebæk, Danemark), Los Angeles County Museum of Art (Etats-Unis), Ludwig Museum (Cologne, Allemagne), Metropolitan Museum of Art (New York, Etats-Unis), Musée national d'Art Moderne (Paris, France), Museo Tamayo (Mexico, Mexique), Museum of Contemporary Art (Los Angeles, Etats-Unis), Museum of Fine Arts (Boston, Etats-Unis), The Museum of Modern Art (New York, Etats-Unis), National Gallery of Art (Washington, D.C., Etats-Unis, National Gallery of Australia, Canberra (Australie), National Portrait Gallery (Londres, Royaume-Uni), Royal Academy of Arts (Londres, Royaume-Uni), San Francisco Museum of Modern Art (Etats-Unis), Santa Barbara Museum of Art (Etats-Unis), Tate Galleries (Londres, Royaume-Uni), The British Museum (Londres, Royaume-Uni), Walker Art Center (Minneapolis, Etats- Unis).