Vera Molnar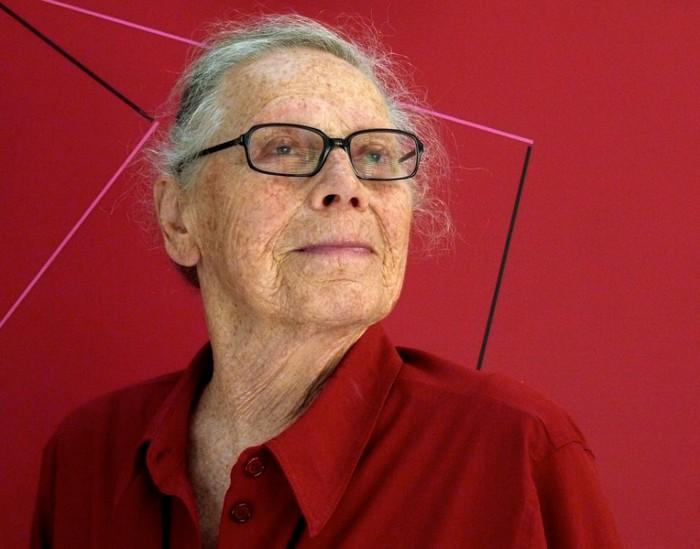 Budapest (Hungary), 1924
Vera Molnar studied at the Budapest College of Fine Arts, were she obtained her degree on art history and aesthetics. Here she also met François Molnar, with whom she moved to Paris in 1947. Since her arrival, she befriended many influential artists from the French art scene, such as Sonia Delaunay, who encouraged Vera to pursue her work, and François Morellet, with whom she shared a growing interest for minimalist, geometric forms, as well as the application of systematic processes of art making. Between 1946 and 1959, her work is focused on the mathematical laws of composition, partly influenced by the theories of Théo Van Doesburg and Georges Vantongerloo, and also by her friendship with Max Bill, whose focus on the relationship between art and mathematics suggested the idea of a quantifiable art. Between 1960 and 1968, she co-founds and actively participates in the artistic research groups GRAV (1960) and Art e Informatique (1967). During these years, she experiments with an "imaginary machine," that is, a series of instructions that allowed her to develop variations of a visual composition following certain rules and self-imposed limitations. Since 1968, this method was continued with the aid of a real computer at the experimental psychology lab in Sorbonne. The computer becomes a tool that lets her quickly advance in her artistic research, but she stresses that it does not replace her role as creator. In 1974-76, she developed the "Molnart" software program along with her husband, aimed at facilitating a "systematic pictorial experimentation." In 1980 she became a member of the Centre de Recherche Expérimentale et Informatique des Arts Visuels (CREIAV) at the Université de Paris I, Sorbonne, and has since progressively gained recognition with her participation in major exhibitions of abstract art and a number of shows devoted to her work. In 2005, she was the recipient of the first d.velop digital art award [ddaa] for her life's work, organized annually by the Digital Art Museum [DAM] and honored with an individual exhibition by the Kunsthalle Bremen.
During her career, the artist has held numerous solo and group exhibitions at museums and art institutions such as the Fondation Vasarely (Aix-en-Provence, France), Musée de Grenoble (France), Wilhelm-Hack-Museum (Ludwigshafen, Germany), Kunsthalle Bremen (Germany), Musée des Beaux-Arts de Rouen (France), Musée Vasarely (Budapest), and Fondation Lius Moret (Martigny, Switzerland), as well as art galleries DAM (Berlin, Germany), Galerie La Ligne (Zurich, Switzerland), März Galerie (Mannheim, Germany), and Galerie Oniris (Rennes, France), among others.
Vera Molnar's work is featured in prominent collections across Europe and other continents, such as the Centre Georges Pompidou (Paris & Metz, France), Staatliche Kunstsammlung (Dresden, Germany), Victoria and Albert Museum (London, UK), National Gallery and Fine Arts Museum (Budapest, Hungary), Bibliothèque Nationale (Paris, France), Fonds National d'Art Contemporain (Paris, France), Carré Estampes (Luxembourg), Stiftung für konkrete Kunst (Reutlingen, Germany), National Library (Tokyo, Japan), Hochschule für bildende Künste (Saarbrücken, Germany), « Sammlung E », Museum gegenstandsfreier Kunst (Otterndorf, Germany), Sainsbury Centre for Visual Arts (Norwich, UK), Wilhelm-Hack-Museum (Ludwigshafen, Germany), Forum Konkrete Kunst (Erfurt, Germany), Mondriaanhuis (Amersfoort, Netherlands), Collection Ruppert (Würzburg, Germany), Collection Hoppe-Ritter, Waldenbuch, Germany, Collection Centre d'Art Bouvet-Ladubay, (Saumur, France), Collection Vass (Budapest, Hungary), Collection Matzon (Budapest, Hungary), Musée Sztuki (Lódz, Poland), Musée Kassak (Budapest, Hungary), Kunsthalle Bremen (Germany), Musée des Beaux-Arts de Rouen (France), Musée des Beaux-Arts de Brest (France), Arithmeum (Bonn, Germany), Stiftung für Konkrete Kunst (Ingolstadt, Germany), among others.