Ryoji Ikeda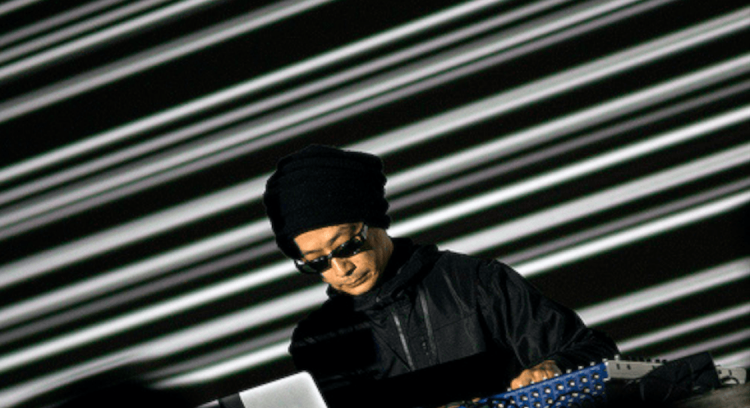 Born in 1966 in Gifu, Japan.
Lives and works in Paris, France and Kyoto, Japan.
Japan's leading electronic composer and visual artist Ryoji Ikeda focuses on the essential characteristics of sound itself and that of visuals as light by means of both mathematical precision and mathematical aesthetics. Ikeda has gained a reputation as one of the few international artists working convincingly across both visual and sonic media. He elaborately orchestrates sound, visuals, materials, physical phenomena and mathematical notions into immersive live performances and installations. Alongside of pure musical activity, Ikeda has been working on long-term projects through live performances, installations, books and CD's.
He performs and exhibits worldwide at spaces such as Museum of Contemporary Art Tokyo, Singapore Art Museum, Ars Electronica Center Linz, Elektra Festival Montreal, Grec and Sonar Festivals Barcelona, Concertgebouw Brugge, The Royal Concertgebouw and Eye Film Museum Amsterdam, Aichi Triennale Nagoya, Palazzo Grassi Venice, Sharjah Biennale, Auckland Triennial, The Whitechapel Gallery London, The Barbican Centre, Festival d'Automne à Paris, La Villette Paris, Centre Pompidou Paris and Shanghai, ACT Centre Gwangju (KR), Singapore Art Science Museum, Kunstverein Hannover, Ruhr Triennale, Garage Museum of contemporary art Moscow (RU), UCLA Center for the art of performance Los Angeles (US), The MET, Crossing the Line Festival New York as well as Kyoto Experiment (JP), Onassis Cultural Centre (Athens, GR), Bi-City Shenzhen Biennale of Urbanism\Architecture (Shenzhen, CN), Joan Miro Foundation (Barcelona, SP) . He presented solo exhibitions at Park Avenue Armory New York, Museo de Arte Bogota, Hamburger Bahnhof Berlin, DHC/Art Montreal, MONA Museum Hobart – Tasmania, Telefonica Foundation Madrid, Carriageworks Sydney, HeK Basel (CH), The Vinyl Factory London, Centre Pompidou Paris and Taipei Fine Arts Museum among others.
He launched 'spectra' as a permanent installation at Mona (Tasmania, AU) in 2018, 'data.scape' at Moriarty Walk, Darling Harbour (Sydney, AU) in 2016. Ikeda's new audiovisual works, 'data-verse' is a commission by Audemars Piguet Contemporary. The first variation of the trilogy was revealed at Venice Biennale 2019, 'May You Live in Interesting Times' curated by Ralph Rugoff. In 2020-21, Ikeda presents works at UCCA Beijing (CN) and a major solo exhibition at 180 The Strand London (UK).  He is currently working on a permanent work commissioned by Grand Paris for the new subway station 'Pont de Sèvres' (Paris, FR; Architect: Henri Dutilleux).
He is the award winner of the Prix Ars Electronica Collide@CERN 2014.
Ryoji Ikeda is represented by Almine Rech Gallery (Bruxelles, Paris, London, New York), and Taro Nasu Gallery (Tokyo).