Daniel Rozin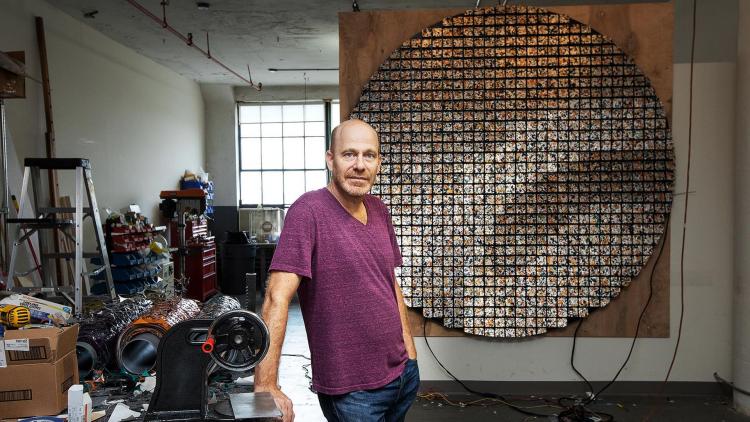 Born in 1961 in Jerusalem
Lives and works in New York, NY
For nearly three decades, Daniel Rozin's practice has investigated the structure and materiality of images. From mosaics to digital images comprising pixels, discrete components are assembled to make a whole. Employing a range of materials–– from trash to hand fans––Rozin probes at what constitutes an image, as well as what can be transformed into one.
Rozin's interactive installations and sculptures integrate the viewer, in real time, to create a representation of the viewer's likeness in the object. His kinetic "mirrors" are often made with materials that become unexpectedly "reflective," responding to a person's presence via a camera and physical computing or custom software. Reflection and surface transformation become a means to explore human behavior, representation, and perception.
Past exhibitions of his work include the Reina Sofia National Museum, Madrid, Spain; Victoria and Albert Museum, London, England; The Garage CCC, Moscow, Russia; NTT InterCommunication Center, Tokyo, Japan; The Israel Museum, Israel, Jerusalem; Milwaukee Art Museum, Milwaukee, WI; Whitworth Art Gallery, Manchester, England; Taiwan National Museum of Fine Art, Taichung, Taiwan; Barbican Centre, London, England; CAM Raleigh, Raleigh, NC; Art Gallery of Nova Scotia, Halifax, Canada; Bunkamura Museum of Art, Tokyo, Japan; Perot Museum of Nature and Science, Dallas, TX; Katonah Museum of Art, New York, NY; ICA Portland, Portland, ME; the Central Academy of Fine Arts Museums, Beijing, China; Ringling Museum of Art, Sarasota, FL; the Peabody Essex Museum, Salem, MA; and the Sundance Film Festival,
Park City, UT.
Awards include the Prix Ars Electronica, I.D. Design Review, Chrysler Design Award, and the Rothschild Prize.
Rozin is an Associate Arts Professor in the Interactive Telecommunications Program at New York University's Tisch School Of The Arts. He earned a BA at the Jerusalem Bezalel Academy of Art and Design and an MPS from NYU.